2156 S. Taylor Rd, Cleveland Heights  44118
Call: 216 932 8620   Fax: 216 321 6556
HOURS
TUESDAY THRU FRIDAY 9-5:00
SATURDAY  9-3:00
CLOSED SUNDAY AND MONDAY
LUNCH DELIVERY AVAILABLE—CALL FOR DETAILS
We accept all major credit cards

WEEKLY SPECIAL!
Tuesdays

:
One Dollar off the normal price of any large sandwich!

SANDWICH MENU–ALL SANDWICHES SAME PRICE
Scooby:  5.95     Large:  8.95      XL:  11.95


CORNED BEEF

Our corned beef is baked–not boiled.  As a result it's more tender and less salty
RUMANIAN PASTRAMI
We have the best Hot Pastrami in the country!


HOT ROASTED BRISKET

our classic Roast Beef
BBQ BEEF BRISKET

Roasted brisket with a great sauce
 TURKEY ON RYE

Roasted and off the bone
CHICAGO BEEF SALAMI

all beef and not too spicy
CHICKEN SALAD
HARD SALAMI–ALL BEEF–ONE SIZE–9.95 (subject to availability)
REUBENS   9.95
A Large Corned beef with sauerkraut, swiss and thousand island–grilled
Variations:  Reubens can be made with turkey, pastrami, brisket or a combo of our meats
CHARLES BARR–CB AND PASTRAMI–8.95
TURKEY AND SALAMI $8.95
TURKEY AND PASTRAMI   8.95

THE MIKE MICHELSON $8.95
Corned Beef & Brisket
THE DUKE $12.95
One full pound of corned beef, turkey, salami and brisket w/swiss 
"You Can't Handle the Duke!"
OPTIONS:
-All Sandwiches can be toasted upon request
-Cheese Selections:  Swiss, American or Provolone
-Condiments:  Stadium, Yellow or Spicy mustard, Mayo,
Horseradish, Thousand Island, BBQ Sauce
-Breads:  Rye, Wheat or White
BOX LUNCHES
BIG BOX
One large sandwich, potato salad or cole slaw,  cookie, pickle spear, 
condiments, napkin, beverage, utensils – $10.95/person
BUDGET BOX LUNCH (smaller sandwich)
One sandwich, chips, cookie, pickle spear, condiments, napkin, beverage, utensils
$7.95/person
SIDES/BEVERAGES/DESSERTS
Potato Salad, Cole Slaw, Mac Salad  $1.75/.99
Assorted Chips   $0.50
Choc. Chip Cookie  $0.50
NY Style Cheesecake  $4.50
Pop or Water $0.75
Dr. Browns Soda–variety of flavors  1.00
MISCELLANEOUS
Rye Bread $3.99/loaf
Pickles $0.25/spear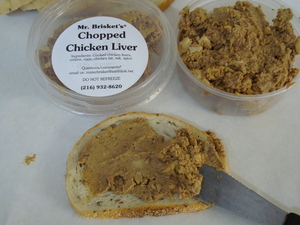 Chopped Liver $5/container
Potato Knishes $1.99 apiece
Matzo Ball Soup $5/qt
Potato Pancakes $1.99 apiece
Jars of Aged Pickles $6
SLICED MEATS BY THE POUND
Hot Corned Beef $14.95/lb
Hot Roasted Beef Brisket $14.95/lb  (15.95/lb w/gravy)
Barbecued Brisket $15.95/lb
All Beef Salami $9.99/lb
Roasted Turkey Breast $9.99/lb
Rumanian Pastrami $14.95/lb
Chicken Salad $8.99/lb
Hard Salami $16.95/lb
Deli Trays
Five Meats, Three Cheeses, Pickles, Potato Salad & 
Rye Bread–All artfully arranged on a platter.  Condiments included as well.
$9.50/person
Sandwich Platters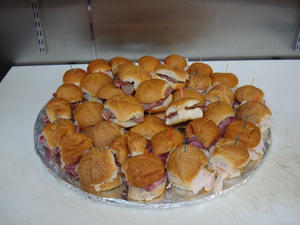 Mini sandwiches made from our quality deli meats and arranged on a platter.  Pickles and condiments are included.
2.25/sandwich