Our reputation for excellence is based primarily on the quality of our beef . Currently we feature USDA Prime Meyer Natural Angus products.  All Meyer Natural Angus beef comes from cattle raised without being dosed on antibiotics and growth hormones.  In addition the cattle are certified to have been humanely raised by HAACP.
In addition, many of our beef products come from Imperial Wagyu in Blair, Nebraska.  Imperial Wagyu beef, with its dense interior marbling, contains more tenderness and flavor.  Similar to Meyer, all our Wagyu beef products come from cattle raised without steroids and antibiotics in a humane fashion.
We know that each beef item we purvey carries our reputation with it so we constantly work to make sure all our products are the best you've ever purchased.  From our USDA Prime steaks to our burgers and hot dogs to briskets and ground beef, Mister Brisket is committed to providing you with the most flavorful beef in the country.
Mister Brisket ships all our products.  We also offer home delivery.
For More Info please email us:  misterbrisket@att.net or call 216 932 8620
Click on the product name for a full description as well as current price:
WHOLE BEEF TENDERLOIN ROASTS
Mister Brisket is renowned for our beef tenderloins which are tasty, tender and simple to prepare.  Typically weighing 4-5 pounds, whole roasts comfortably serve eight to ten adults.  All tenderloins are neatly trimmed and tied with butcher's twine so that when they arrive, they're oven ready.  Tenderloins may be split in half, divided into thirds or subdivided even further.
By the Pound………..24.99/lb (trimmed weight)
BEEF TENDERLOIN FILETS
            Whether you call them filets, filet mignon or tenderloin steaks, all are appropriate names for the delectable portions that we cut out of whole beef tenderloin.  Filets may be cut any size from our restaurant portion (12-14 ounce) to 4 ounce sandwich size pieces.
By The Pound…….24.95/lb
Meyer Natural Angus Rib Steaks—USDA Prime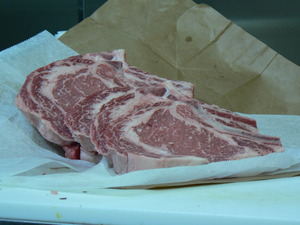 Arguably the most flavorful cut of beef, a thick USDA Prime Rib Steak is a sublime eating experience.  For the best price, have us take a whole rib (containing seven bones and weighing typically about 15 pounds) and cut it up into individual slabs.   An entire rib typically yields about a dozen thick steaks.
By the Pound……..16.99/lb
Meyer Natural Angus Rib Roast–USDA Prime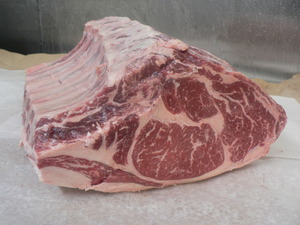 A USDA Prime seven-bone rib may be left whole or subdivided into smaller increments.  Slowly roasted Prime Rib is a Holiday favorite.  We can remove the bone and tie it back on in order to make the carving process easier.
By the Pound………16.99/lb
Meyer Natural Angus Delmonico Steaks—USDA Prime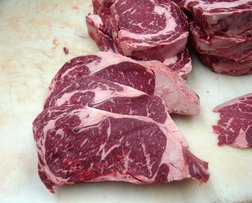 A boneless Meyer Natural Angus rib steak: ideal when you like the rib flavor but prefer boneless cuts.
By The Pound………18.99/lb
Meyer Natural Angus Delmonico Roast—USDA Prime
A boneless Meyer Natural Angus rib roast which typically weighs around twelve pounds.  Tasty, tender and slightly more expensive than a bone-in rib roast.
BEEF SHABU SHABU
A popular item for a traditional Japanese dish, Shabu Shabu is well trimmed boneless Meyer Natural Angus Ribeye sliced paper thin.  It's labor intensive but worth the effort.
Beef Wagyu Burgers–our "Burgers of the Gods"
We have a secret mix of Wagyu cuts that we grind and mix to create the most amazing burger you've ever tasted.  Each patty weighs 8 oz.  Sold in six packs.  The flavor is amazing!
$25/six pack
BEEF BURGERS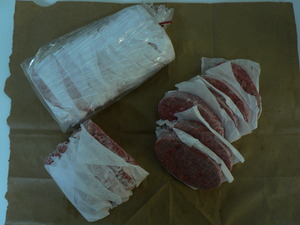 Our fabulous burgers are made from a mix of  brisket and chuck.  The meat is ground on premises and made into one-third  pound patties.  All of our burgers contain enough fat—slightly over 20%– to ensure good flavor.  We sell them frozen in quantities of six or twelve.
Mister Brisket's burger making process ensures not only a higher quality level than  commercially sold patties but a near certainty that they are safe from bacterial contamination.
6 pack….13     12 pack…..26
By the Pound………$6.50/lb
HOT DOGS
Mister Brisket purveys all beef, natural casing hot dogs in two sizes—thick Jumbo Dogs and  six to a pound weiners.  Natural casing hot dogs have a terrific texture and snap when you bite into them.  These Chicago style dogs are some of the tastiest in the country.
Six to a Pound……..7.99/lb       Jumbo (6-8 oz apiece)…….8.99/lb
STRIP STEAKS—USDA Prime Meyer Natural Angus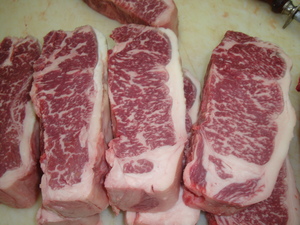 A premier cut among steak aficionados, we purvey only USDA Prime Strips from Meyer Natural Angus Beef.  All Meyer products come from animals that have been reared without the use of growth hormones or antibiotics.  In addition, these animals have been raised in a manner that is Certified Humane. Prized for both their tenderness and flavor, we offer different size strips to suit your preference.
By the Pound…….18.99/lb
STRIP ROAST—USDA Prime Meyer Natural Angus
The same strip loin from which we cut our steaks, but prepared as a roast.  Eats like a rib roast only boneless.  A whole strip comfortably feeds 10-12 people.
BEEF PORTERHOUSE STEAKS
A true Beef Porterhouse is a cross section cut from the short loin that consists of three parts—the strip, the beef tenderloin filet and the bone in between that divides the steak in two. One of the most popular items on steak house menus and will usually feed two people.
Current Price:  16.99/lb
WHOLE BEEF BRISKET–Imperial Wagyu Signature Level
Wagyu Beef Briskets are prized for their flavor and tenderness and are very popular with participants on the Competitive Barbecue Circuit.  Imperial Signature Level products have abundant marbling and terrific flavor.  Most weigh in the 13-16 pound range with solid thickness in the flats.  In addition, they are very reasonably priced when compared to other brands of Wagyu.  This item is very popular among some of the country's finest competitive barbecue competitors.
WHOLE BRISKETS…….7.99/lb
Imperial Wagyu First Cut Beef Briskets:  15.95/LB
WHOLE BEEF BRISKET—USDA Prime Meyer Natural Angus
A Meyer Natural Angus whole brisket typically weighs eight to twelve pounds and has outstanding flavor.  Meyer is ideal for the backyard barbecue meat smoking enthusiast as it's a bit smaller on average than our Wagyu Briskets but equally delicious.  Like all Meyer products, this brisket comes from 100% Angus cattle that were raised humanely without hormones or antibiotics.
MNA Prime Whole Briskets………..6.99/lb
USDA Prime FIRST CUT BRISKET
(also known as Flat section or Nose Off Brisket)
A first cut is the meatier bottom section of the brisket. First cuts typically weigh from 5-7 pounds and are easier to slice than whole briskets.  We make sure our First Cuts have a nice fat cap in order to ensure their flavor.  We carve them ourselves out of our whole USDA Prime briskets.
Sy Ginsburg CORNED BEEF BRISKET–RAW
Take a raw beef brisket, cure it in a brine, and you have a corned beef. Arguably the most popular of deli items, good corned beef is traditionally baked or boiled, sliced thin and served on rye breadwith mustard. Our raw corned beefs usually weigh 12-14 pounds and serve up to 20 people.
By the Pound:  5.99/lb
Imperial Wagyu Beef Flank Steak
            The preferred cut for "London broil", our Waygu Flank is  a boneless steak which has excellent flavor, tenderness and marbling..  Flanks can be used for stir-fry, sandwiches as well as for a main course.  Typically weighing around 2lbs., a good size flank can feed a family of four.
BEEF OUTSIDE SKIRT STEAK—USDA Prime Meyer Natural Angus
Long, boneless, and shaped like a belt, a whole Meyer Natural Angus USDA Prime Skirt Steak–aka "Rumanian Tenderloin"–usually weighs slightly over one pound and feeds 2-3 adults.   USDA Prime Skirts have tremendous flavor and a marvelous texture.  This underrated cut of beef is a big favorite of our customers.  It not only tastes fabulous but grills quickly because it's relatively thin.  Skirts are terrific when grilled or broiled but may also be used for sandwiches, in salads or as stir-fry.  Like all Meyer products, these USDA Prime steaks come from 100% Angus cattle–no blends–that were humanely raised and never given hormones or antibiotics.
BEEF HANGER STEAKS–USDA Prime Meyer Natural Angus

Hanger Steak, aka Hanging Tenders, have become one of our most popular cuts as our customers love their dense, beefy flavor and surprising tenderness.  Hangers usually weighs anywhere from 8-12 oz.  Similar to flanks and skirts, they work well as a London broil style grill item.  Like all Meyer products, these Hangers come from 100% Angus cattle that were humanely raised without growth hormones or antibiotics.
Meyer Natural Angus USDA Prime TRI-TIPS
(Top Block or Newport Steaks)
A tri-tip is a roughly two pound piece of sirloin prized for its taste and versatility.  It makes a simple, delicious roast or an alternative to flank for use as London Broil.  They are especially popular on the west coast.   One tri tip feeds 4 people comfortably.  Key for tri tip enjoyment is to make sure the slicing is done correctly.  This means directly against the grain.
BEEF BURGERS W/BACON
Made on premises, we take our burger blend of Brisket and Chuck and and in ground Smoked Slab Bacon.  We make into one third pound patties and freeze.  The flavor is spectacular but be sure to keep a water bottle nearby when grilling.  The dripping fat causes a lot of flame.
Online Price: 12/six burgers
Current Price:  6.50/lb
TOP ROUND ROAST
Top Round is prized as a cut to be seasoned, baked and sliced thin as it makes a terrific rare roast beef.  It is frequently used as a buffet item.  An average top round roast weighs 8-10 pounds and provides rare roast beef for up to 30 people.
Online Price:   $65 per roast (8-10 pounds)
GROUND BEEF
We use chuck and sirloin with just enough fat to ensure that the beef is flavorful.  Sold in one pound increments, our blend is perfect for most ground beef items such as meatballs, meat sauce or meat loaf.  All Mister Brisket ground beef is ground on premises.
By the Pound:  5.99/lb
EXTRA LEAN GROUND BEEF
            Made solely from sirloin, our lean ground beef contains half the fat of our regular blend.  Ideal for any recipe requiring low fat ground beef.
BREAKFAST STEAKS
We thinly slice pieces of ribeye or strip so that they quickly pan fry to perfection.  These steaks are perfect alongside hash browns and eggs with a deep cup of black coffee.  Also great for hot subs.
BEEF PLATE SHORT RIBS
A staple of soul food and Jewish cooking, short ribs are great for stews, soups or traditional dishes such as "cholent".  Sold by the plate (usually for smoking) or subdivided into smaller sections, beef short ribs are very flavorful but must be cooked a long time.  Sliced thinly, it's known as "Flanken".  Beef Short Ribs are the first item Mister Brisket ever sold.
BONELESS BEEF SHORT RIBS—USDA Prime Meyer Natural Angus
This wonderful item comes in roughly 1 ½ lb strips and works well in dishes that call for beef short ribs or beef stew.  Each rectangular hunk comfortably feeds 2 adults and is wonderful when slow cooked or smoked.  Like all our Meyer products, this boneless short rib comes from 100% Angus cattle that were humanely raised without hormones or antibiotics.
By the Pound:  10.95/lb
BEEF OX TAILS
A good cut for soups or stews, Ox Tails must be slow cooked or braised.
Current Price:  call
BEEF MARROW BONES
Great for roasting or for making stock.
Current price:  3.99/lb