MISTER BRISKET  216 932 8620


Gift giving is an art.  The right gift inspires feelings of giddyness in the recipients.  They feel gratitude not only for what they have received but because the giver shows insight.  They appreciate that the person who gave the gift understood them well enough to purchase an item that they really wanted.  Notice the picture above.  This is an artists rendition of the happy inner child that emerges when you give a gift from Mister Brisket.  Their spirits soar.  They feel silly, happy and energized by the thoughtful present.
But give the wrong gift and you'll get a markedly different response.  Cheese baskets, neckties, gift certificates to Quiznos subs…these presents will elicit an ugly reaction in the recipient.  They'll say thanks and shake your hand.  But their inner self will look more like this: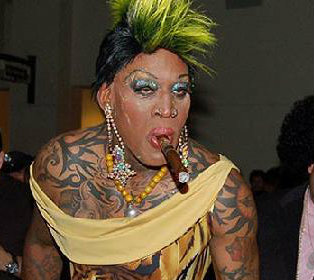 Fortunately, there is still plenty of time to avoid making this horrible mistake.  Mister Brisket stands at the ready to ship or deliver gifts of your choosing all over greater Cleveland and beyond.  We have drivers that want to work.  We have quality food items to purvey.  And we have smiles to inspire in all the inner children who receive items from Cleveland's finest purveyor of quality meat products (since 1975).
Here are some of the people you might want to think about:  Out of town family, In town family, business associates, people with whom you'd like to do business, your boss, your employees, the person that does your nails or cuts your hair, the person that grooms your dog, your dog (we have bones), your kids teachers, bus drivers, mail people, your doctors, your lawyers, people that have done you favors, your landscaper, your repair guy, old friends, new friends, neighbors, etc…All of them have received notices that you will be giving them something from Mister Brisket. (Well, that's not true but think how excited they'd be!)
Here are some items for you to consider (prices do not include costs of shipping or delivery).


1) USDA Prime Beef Tender Filets–Four for $50.  We'll gift wrap, include a recipe and deliver or ship.  Spectacular Steaks; great price.
2) Four USDA Choice Beef Tender Filets and One Pound of Jumbo Shrimp–$55.  Spectacular surf and turf
3) One Pan Roasted or BBQ Brisket–cooked, sliced and with re-heat instructions–$50
4) One Butt End Beef Tender Roast–feeds 4-5.  Comes with recipe and gift card–$40
5) Mister Brisket Sampler Pack–One USDA Prime Skirt Steak, One USDA Prime Hanger Steak, One USDA Prime Rib Steak and One USDA Prime Strip Steak–$85.  Recipes included
6) Six Turkey Burgers, Six Bacon Burgers, Six Beef Burgers and Two Pounds of Thai Sausage–$45.  Recipes included.
7) One Pound Corned Beef, One Pound Pastrami, One Pound Brisket, One Rye Bread plus condiments and pickles.  $50.  Delicious and sure to be appreciated.  Feeds 10 comfortably and a lot cheaper than a deli tray.
8) One Aged USDA Prime Rib Roast for Four…$85.  Includes cooking instructions.
9) Hormel Spiral Sliced Hams…$50.  It's a terrific ham and comes with a gift card and reheating instructions.
In addition, Mister Brisket also offers Gift Certificates which can represent either a dollar amount or product.  For example, you can purchase a gift certficate for one fully cooked Beef Tenderloin, a pan of prepared brisket or deli sandwiches.  You can pick up the certificate yourself or we'll mail it for you.  If you're reading this email, there must be something you like a lot at Mister Brisket.  Isn't there someone you know that would like the same thing?  Give a gift certificate for that exact item.
When it comes to gifts, you're the best judge of what to purchase.  We have a wide variety of items for anyone that likes quality food.  Let us know what you want to give.  Tell us how much you want to spend.  We'll come up with a terrific gift that will surely be appreciated.  Here are other ideas:
http://www.misterbrisket.com/specialsholidays/send-a-gift/
SHIPPING INFORMATION
Christmas is only 1 1/2 weeks away so any items that you want to arrive prior to the holidays have to leave no later than Wednesday, December 18.  That means we need your order placed no later than Tuesday, December 17.  Typically, the week before Christmas is when many of you start considering sending items to friends and family.  But if you wait too long, it's not going to be possible to get it to them in time.  If you'd like to send meat out of town (or you live out of town and want something special for Christmas) please do your best to let us know by the end of this weekend.  We will do everything possible to accomodate all requests but we can't bend the calendar.  In other words….don't procrastinate!
Salamis For Our Soldiers
Many of you have been kind enough to purchase salamis to send to soldiers in Afghanistan.  We still have plenty available.  If you would like to help let our the men and women of our armed forces know that we're thinking about their sacrifice, please call or click this link for more info:
http://www.misterbrisket.com/other-servicessend-salamis-to-the-troops/salamis-to-the-troops/
For more info on our other Holiday offerings: http://www.misterbrisket.com/specialsholidays/christmas-and-new-years/
Mister Brisket Holiday Hours:  We will be open Sunday, Dec. 22, Monday, Dec. 23 and Tuesday, Dec. 24.  We will be closed Dec. 25.  We will probably re-open Dec. 26 although that has yet to be determined.