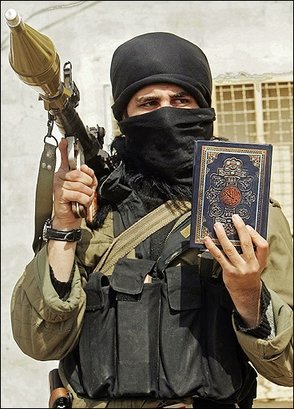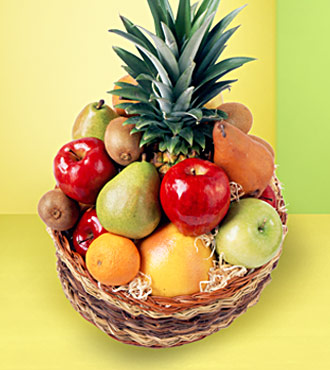 An email recently made its way to us that accused a popular fruit basket company of funding Islamic Jihad.  Since anything that arrives via email must be true, we decided to do some research and find out what other gift purveyors are doing with their funds.  Here's what we discovered:
–Chocolate Purveyors invest profits into companies that manufacture acne medication.  Think about it.  They sell you the chocolate, it causes the zits, then they sell you the medicine to clear up the acne.  Pretty "sweet" deal for them.
–Florists have been putting their money into antihistamine providers.  They want you to buy flowers, cough, sneeze, and use medication to control it.
And, most embarrasingly, a major provider of boxed steaks of dubious quality puts enormous sums into the People's Republic of North Korea.  Indeed, their secret slogan is "Deer Meat, Dear Leader."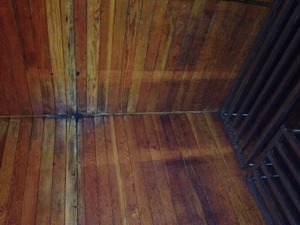 At Mister Brisket, we pledge to put all the profits from gifts you purchase towards one and only one non-controversial and honorable purpose–we're gonna pay Howard Hansen from Cook Refrigeration. He's the guy that maintains our freezers and coolers.  Less than a week ago, we had to replace the compressor on our wooden cooler.  Howard took care of it immediately.  It's not a cheap job.  But he does great work….and he's reliable.
Ten Recommended Gifts From Mister Brisket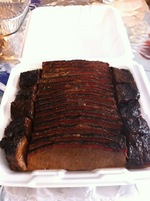 1) A Pan of Roasted or Barbecued Brisket:  $50  (also available as gift certificate)
It heats easily, tastes great, feeds a crowd and is a true Cleveland original.  No one does what we do with Brisket.  For $50, you can send anyone a wonderful gift that they can use immediately or freeze and enjoy at some point in the future.  Also available as a Gift Certificate.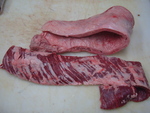 2)  Two Meyer Natural Angus USDA Prime Skirt Steaks and a Two Pound Bag of Shrimp:  $65 (also available as gift certificate)
Recently a friend and his son joined my son and I for a steak fest.  We grilled several varieties but all of us were convinced that there is nothing that tops our amazing skirt steak for a great all around red meat fix.  Skirt Steak is not as well known as rib and strip but it's every bit as good.  Each skirt feeds 3 adults.  The shrimp provides the "surf."  Also available as a gift certificate.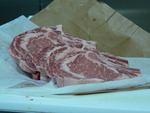 3) USDA Prime Rib Steak for Two:  $30 (available as gift certificate)
We take one of our amazing prime ribs and cut a huge one bone steak.  We also provide the recipe, gift card and festively wrap this marbled Cowboy Rib.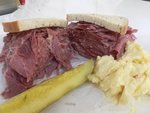 4) Deli Dinner for Four Big Eaters:  $65 (available as gift certificate)
Four Extra Large Corned Beef Sandwiches (Pastrami or other meat can be subbed in), Four Potato Salads, Four Slices Cheesecake


5) Burger and Dog Bonanza:  $65 (available as gift certificate)
Know someone that likes to grill?  How about twelve of our Brisket Burgers, twelve Turkey Breast Burgers and twelve Natural Casing Beef Hot Dogs?  Each item is of the highest quality and will come with simple grill instructions plus a gift card inside a festive wrap.



6) Six Jumbo Beef Tenderloin Filets:  $99 (available as gift certificate)
We cut Six Huge Filets, wrap them festively, and deliver along with a gift card and cooking instructions.
7) USDA Prime Steak Bonanza:  Two Prime Strips, Two Prime Rib Steaks, Two Prime Hangers and Two Prime Skirts: $125
This is a brilliant gift and best given to someone that loves red meat.  All steaks come with cooking instructions and gift cards.
8) Dearborn Spiral Half Hams:  $50
This brand represents the highest quality in spiral hams.  Give to someone that will appreciate quality.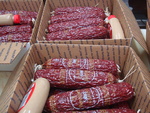 9) A Salami For The Troops:  $20
Purchase a Salami to send to one of our soldiers in someone else's name.  They will be notified that a salami is going to be shipped overseas as a gift from them and will receive info on the soldier that receives it when it arrives.  This is a wonderful honor and a great gift for people that prefer to do things for others.  For more info:http://www.misterbrisket.com/other-servicessend-salamis-to-the-troops/salamis-to-the-troops/
10) Pork Extravaganza:  One Pound of Smoked Slab Bacon, Two Kurobuta Pork Chops and Two Pork Tenderloins–$35
We deliver anywhere in Cuyahoga County or ship anywhere in the continental USA.  Call/fax/email the addresses and we can have your gift delivered by the end of next week.  Or, we can mail out gift certificates for all the items listed along with a gift card.  Mister Brisket Gift Recipients frequently weep with joy.  Make someone cry (happy tears) and purchase a gift from us.  For more ideas:
http://www.misterbrisket.com/specialsholidays/send-a-gift/
Please Note:  Costs of Delivery/Shipment are not included in costs of gifts.  Those are separate charges.
Mister Brisket Reminds You We Are Open On Sunday, Dec. 23 and Monday, Dec. 24.
We will also be open on Sunday, December 30 and Monday, Dec. 31.
Your Patronage is Appreciated.  Phone: 216 932 8620   Fax:  216 321 3511
email:  misterbrisket@earthlink.net