Our delicious veal has been justly praised over the years for both its flavor and tenderness. Our secret is that we utilize a great supplier near Chicago whom we trust to provide us the very best veal available in the country. It costs us a bit more to have it trucked in from Illinois but we know from years of experience that no one else does a better job of providing us with the quality products you desire.
Click on the product name for a full description as well as current price:
RIB VEAL CHOPS
We take a veal rib roast, generally weighing between 4 and 5 pounds, and cut it into gorgeous, melt-in-your-mouth veal chops.  A full order consists of six weighing around 12 ounces each and measuring 1 ½ inches in thickness.  Chops can be cut larger or smaller depending upon your preference and are outstanding whether baked, grilled or broiled.  The bone may be frenched upon request (Long Bone Rib Veal Chops).
Current Price:  25.95/lb
VEAL RIB ROAST
A mellow alternative to its beef counterpart, a veal rib roast is an outstanding selection for anyone desiring a simple, elegant item for a special meal.  Comfortably feeding six people, it has an understated flavor that is certain to please either your family or special company.
Current Price:  25.95/lb
 VEAL T-BONE STEAKS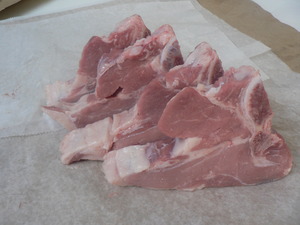 Also known as veal porterhouse, these chops are from the short loin of the calf. A full loin, weighing approximately seven pounds, yields eight to ten chops.
Current Price:
VEAL TENDERLOIN
            A miniature version of beef tenderloin, these lean, tender roasts are as delicious as they are versatile.  Each weighs a bit under a pound and may be grilled, roasted or pan seared.  A very popular item in Italian cooking.
Current Price:  24.95/lb
VEAL SLICES
            Also known as veal scallopini, these pounded out medallions of veal can be made from your choice of tenderloin or top round.  They are irresistible when dipped in egg, covered in bread crumbs and sauteed.  We sell veal slices in one pound increments.  Figure on four or five slices to the pound.
Current Price:  28.95/lb
 VEAL TOP ROUND
This piece of veal usually weighs 4-5 pounds and physically resembles a deflated football.  This delicious, boneless roast is typically tied and baked then thinly sliced.  This item is perfect if you're making veal tonnado.
Current Price:  16.95/lb
VEAL BRISKET
Our veal briskets weigh 2-3 pounds apiece and make a wonderful roast.  Figure that each veal brisket feeds four adults.   It is a delicious, leaner version of beef brisket that requires less cooking time and is simple to prepare.
Current Price:  8.99/lb
VEAL STEW MEAT
Our veal stew comes from sirloin.  It is lean, tender and delicious
Current Price:  8.99/lb
VEAL FLANK STEAK
Veal flanks are much smaller than beef flanks, weighing about a half pound each.  They're extremely lean and useful for sandwiches or stir-fry.  Probably an item that should be marinated prior to use.
Current Price:
OSSO BUCCO (VEAL SHANK SECTIONS)
This item is a gastronomical superstar when braised and seasoned.  We take a whole hind shank, weighing three to four pounds, and cut it into 1 ½ to 2 inch thick cross sections.  Figure on two pieces per person when planning a dinner.
Current Price:  14.95/lb
WHOLE VEAL SHANK—FRENCHED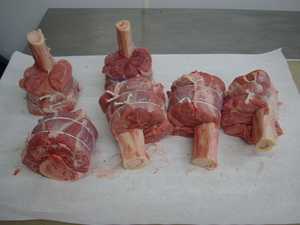 Instead of cutting for "Osso Bucco", the shank is left whole, partially frenched to reveal the bone and braised to a perfect doneness.
Current Price:  14.95/lb
THAI VEAL SAUSAGE (may also contain beef and pork)
A true Mister Brisket signature item, our Thai sausage is one of the most unique and flavorful grill items available in the country.  It's ground veal and beef mixed with soy sauce, brown sugar, onion, cilantro and garlic plus one other key ingredient. This sausage is a must try for anyone looking for a special appetizer or simply a marvelous item for the grill. Can be purchased in links or in bulk.   We will also make it into patties upon request.
Current Price:  5.99/lb
ITALIAN VEAL SAUSAGE
We take lean veal, grind it twice finely, then add fennel seed, salt, pepper, and a touch of garlic.  If you want it hot, we can add red pepper.  Either way, it's a fabulous grill item which sell as links or patties.
Current Price:  5.99/lb
GROUND VEAL
Good for burgers, meatloaf, spaghetti sauce, stuffed peppers or whatever else you can imagine.  Can be made extra lean.
Current Price:  6.99/lb