Mister Brisket's lamb products are guaranteed to be USDA Prime, the highest grade given by the department of agriculture. USDA Prime means more marbling, hence more tenderness and flavor. Our lamb products have been among our most highly praised items by customers over the years. If you love lamb, we can promise you will be satisfied with the freshness and taste of ours.
Click on the product name for a full description as well as current price:
RACK OF LAMB–USDA PRIME
Our USDA Prime Lamb Racks are exquisitely delicious and simple to prepare. They weigh eight to ten pounds prior to trim and yield two roasts of eight bones apiece.  Each roast comfortably feeds 2-3 people.  The bones may be frenched for the purposes of an elegant presentation.  The roasts may be purchased individually rather than in pairs.
Current Price:  24.99/lb (trimmed–avg wt of 2 lbs)
CROWN ROAST OF LAMB–USDA PRIME
A whole lamb rack—both roasts—fashioned into a crown.  This presentation is very popular at Easter and Christmas.
Current Price:  28.99/lb (weighed trimmed)
RIB LAMB CHOPS–USDA PRIME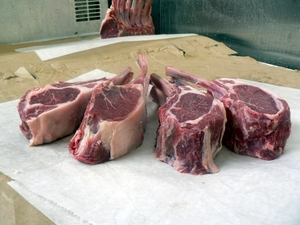 We take a full rack of lamb and cut it into neatly trimmed chops of any size.  Typically, larger chops–1 ½ to 2 inches–are popular as entrees, while smaller chops make for a terrific appetizer.  A whole rack can yield anywhere from 30 half inch cocktail chops to 8 double thick chops which are marvelous on the grill.
Current Price:  24.99/lb (weighed as chops)
LOIN LAMB CHOPS
Loin chops are the lamb equivalent of a porterhouse steak as they feature a t-bone in the middle which is bordered by a piece of tenderloin and strip.  In size they're slightly larger than rib chops and in comparison of flavor they're equally marvelous.  A whole loin, yielding around a dozen thick chops, usually weighs in the range of 7-8 lbs.
Current Price:  14.99/lb (weighed as chops)
LEG OF LAMB—USDA PRIME
Leg of lamb is a dinner party favorite.  It is less expensive than the rack or loin yet still quite tasty.  We take a USDA Prime leg and prepare it either with the bone-in or boneless.  A whole leg usually weighs around 8 lbs with the bone-in or 6 lbs when the bone is removed.  Figure a leg of lamb will comfortably feed ten adults.
Current Price:  9.95/lb
LAMB STEW MEAT
We take lean, tender hunks from the leg and sell them by the pound.  Absolutely fabulous.
Current Price:  10.99/lb
GROUND LAMB
Ours is fresh, lean and delicious.  Sold by the pound.
Current Price:  9.99/lb
LAMB SHANKS
A favorite from a bygone era, lamb shanks weigh around a pound each and are terrific when braised.
Current Price:  8.99/lb
LAMB SHOULDER ROAST
Typically weighing around four pounds, a lamb shoulder roast tastes terrific when properly seasoned and slowly cooked.
Current Price:
LAMB SHOULDER CHOPS
Cross cut sections from the shoulder.  Delicious but requires braising.
Current Price:
WHOLE LAMB
A whole lamb is a popular item at parties and festivals.  Ideal when placed on a rotisserie and slowly cooked.
Market Price: